We arrived at our Minsk hotel, Hampton by Hilton late yesterday evening where luxurious rooms (well compared to the Ibis) awaited us! The rooms are much more spacious along with all the usual accessibility features i.e. shower seats. However, the pinnacle of this is that my room overlooks the main train station meaning that trains are arriving/departing as I type!
As today was our only day in the city, we headed out to search for the centre passing Soviet built structures along the way…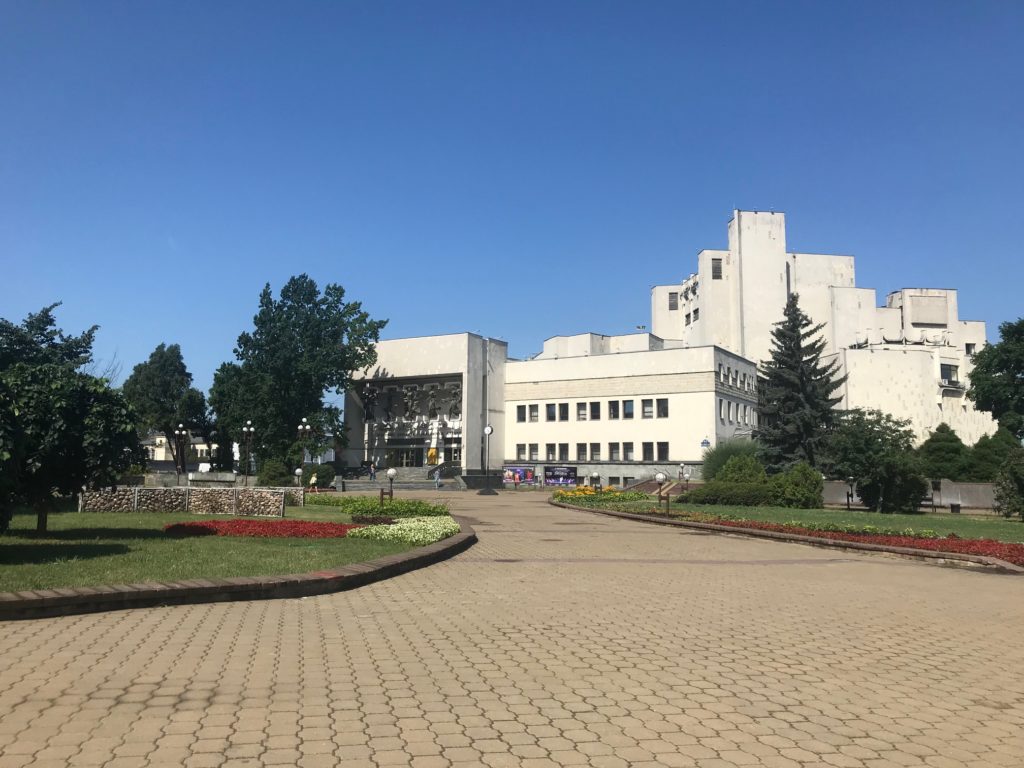 The centre itself isn't overly big in size meaning that you can see the majority of landmarks in a matter of hours such as Victory Square…
When walking around the city, I noted that the majority of shops and restaurants have steps at some stage (indoors even when a ramp is outside). Another thing to note is that the main avenues adopt a similar underpass system as China complete with steps meaning that you may end up walking quite a while to reach an over ground crossing point!
Our plan after lunch was to simply have a wander back along Prospekt Nezavisimosti (the main street/avenue in Minsk) back to the hotel via an observation tower when we were pleasantly diverted. Whilst attempting to figure which tower was the correct one, we were approached by a guy in a wheelchair plus a 'social worker' (who had apparently seen us wandering around earlier) asking the PAs if they were volunteers for a Belarusian charity who provides summer camps for the disabled. After chatting for a while, they invited us to hop onto the metro with them (at an inaccessible station but it was clear that they were pros at the steps business!) out of the centre to a 'hipster' neighborhood complete with street art and quirky cafés/restaurants. It is probable that we would never have found it without them..
Regarding the Minsk metro accessibility, once you are down on to platform level, the gap between the edge and the train is minimal (Superbunny would of definitely cleared it). At our destination station, there was a series of 'platform lifts' to street level.
Tomorrow, we head back out to Minsk Airport to catch our flight back to the UK hence concluding this trip! Watch out for the itinerary of my next adventure to Uzbekistan and Kazakhstan in September…