We woke up to another hot and sunny day in Marseille and headed out straight after breakfast to see Notre Dame, which is basically a church which overlooks the whole of Marseille presenting stunning views across the whole city for the who visit
.
We were unsure of how accessible it would be to get there but one of my PA's found a little road train which takes you to the top, which on their website claims to be wheelchair accessible – which it is clearly not! Following that and after googling a bus route we found one and prayed it was accessible. The buses in Marseille are similar to the ones that can be found in London, where automatic ramps are deployed from the side, so it was simple to get on and off.
Once at the top, I was surprised to see that there was a lift which takes you to the top of the church, The Basilica of Notre Dame. Most of which is totally accessible despite all the steps which can be seen on arrival.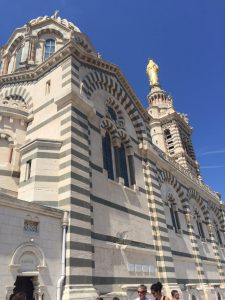 After my PAs taking a few selfies and my camera battery nearly dead, we decided to head back to the hotel for lunch while the camera recharged. It was then time for another method of public transportation in the form of a tram in order to get to the tallest skyscraper in Marseille. The trams themselves have low floors so there are no gaps whatsoever between the tram and the platform edge, making it easily accessible. The public transportation system in Marseille surprised me as research indicated it wasn't great as a wheelchair can't access the metro. Saying that, the buses and trams take you most places anyway.
We reached the skyscraper and all its glory –
As with all modern architecture, I took a million photos before heading back on the tram into the centre. Also, I may have found a new ringtone to replace the existing French train announcement, that's if I can find it!
Next stop was visiting the bridge connecting the museum to Fort Saint Jean which is a feat of engineering in itself. Apart from trying to find a suitable route up to it, we reached the other side and found ourselves in the old part of Marseille which is never good for wheelchair access but we managed to find our way down, taking a few detours to discover drop curbs.
Today was our last day in Marseille as we travel to Geneva tomorrow afternoon by train, which we house be interesting as I booked assistance but who knows if it will turn up, fingers crossed!
See you Switzerland!