One of the main tourist attractions in Yerevan is the Cascade Complex which links the Monument neighbourhood with the downtown. As the name 'Cascade' implies, it consists of many many steps which isn't great for a wheelchair user in addition to the lack of lifts inside the complex, just narrow escalators. No worries though as one can still enjoy the views presented if you know where to look (and prepared to wander down a few 'not so glamorous' streets!)…
As the above photo shows, there is also a sculpture garden at the bottom of said complex which comprises of some of the most strangest sculptures…
Now, if you look closely at the Cascade Complex on Maps, you will notice various bridges leading to backstreets at different heights. It is therefore possible for a wheelchair user to use said bridges to access different levels. However it is useful to be guided by a map as these bridges are not signposted and one wouldn't recommend navigating the streets at night either…
We chose to hunt down the bridge that brings you halfway up the Cascade, it doesn't feel the safest bridge in the world and Superbunny wouldn't be able to get onto the structure as only the street end has a ramp but the bridge still provides panoramic views of the city if the step is too big…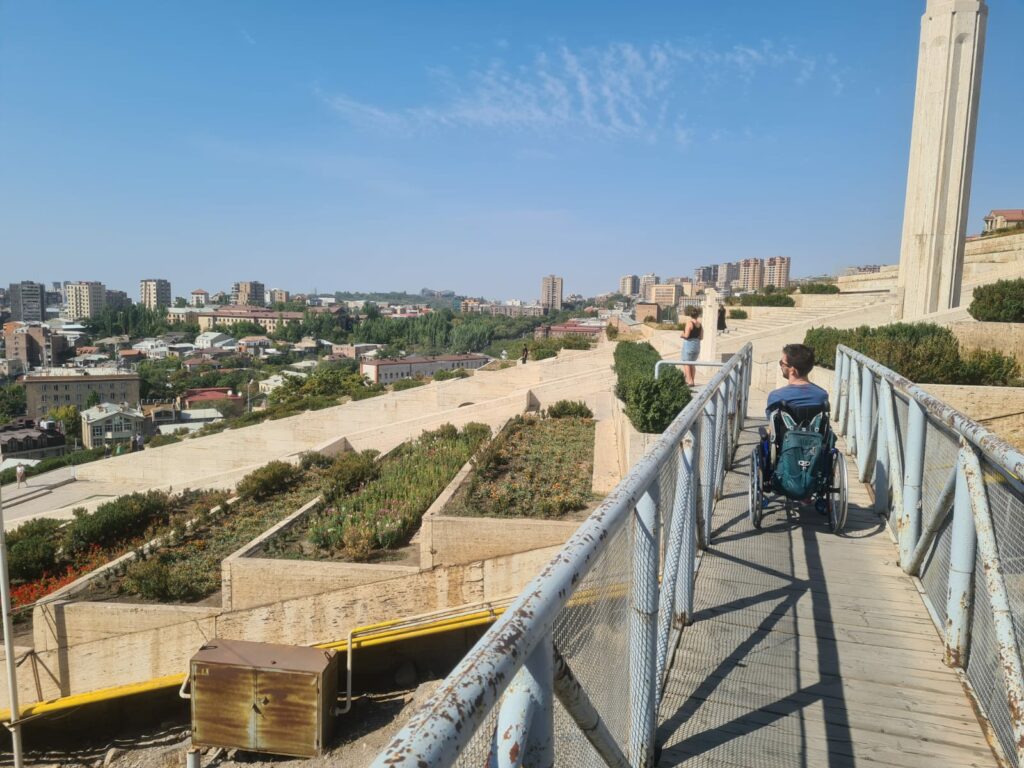 Yerevan is also home to a metro system which only means one thing, I have to go for a gander! None of the stations have lifts installed (otherwise you would have heard all about it by now!), however I have it on good authority that the operator is currently working with a Spanish firm to do this in the future. At present (2023), stations either consist of steps or the worlds fastest escalators…no thanks!
As I keep mentioning, due to the current situation with Azerbaijan, it's been a little difficult to walk around the city at night without encountering a protest, however, as we are leaving tomorrow, we took the plunge and explored Republic Square and the surrounding areas…
Whilst in Yerevan, we are staying at the Holiday Inn Express which, apart from the road outside being quite tricky for a wheelchair, is a pretty standard hotel, the bathroom is a little narrow though!
Tomorrow we head back to Zvartnots International Airport (which is named after the nearby cathedral…fun fact!) to catch the flight to Rome and then onto Bristol.