About Nath Fernandes…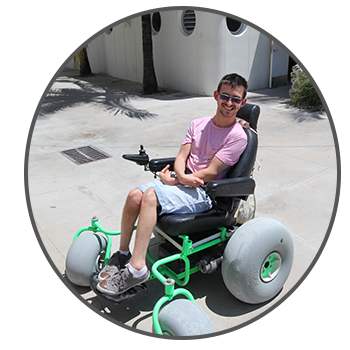 Hey, my name is Nath Fernandes and welcome to my Wheelchair Traveller Blog! I live in Bristol, United Kingdom (and yes that's outside London if your wondering!), have severe Cerebral Palsy and my daily life consists of running 2 businesses with a hint of Mindfulness to calm the brain.
Anyway, I think that my passion for travelling began from the word 'go' when my parents took me to Disneyland Paris in 1999, however, the travels didn't really start until I visited Canada in 2004 (the point where I discovered that it's nearly impossible for me to sleep on night flights!). We spent 2 weeks travelling around the country visiting places such as Toronto and Niagara Falls becoming immersed in the Canadian culture. It wasn't just that inspiring me to travel but also how people's attitude towards disability differed from those in the UK. Things slowed a little whilst I had exams and went through university, saying that, we spent a week in Paris involving me and one of my best friends catching the TGV to Brussels for the day and then Amsterdam following that.
In 2012/13, I took a year out of university on placement for which I carried on running my businesses. By this point, I had moved away from my parents living independently with my Personal Assistants, now the globetrotting really does start! From the period beginning March 2013 to October 2023, I explored 45 countries on 3 separate continents (Europe, North America and Asia) but there is so much more to explore!
As an individual, I'm constantly pushing myself to the limits and the same goes for my passion for travelling which is why I particularly enjoy visiting countries that are of the beaten tourist trail let alone the disabled traveller trail! Countries such as Armenia and Kazakhstan intrigue me as there is little known about them, in particular, their attitudes towards the disabled. I also want to use this blog as a platform for such countries to show that, although there is little written about accessibility in said place, society is always (well…nearly always!) welcoming to disabled travellers regardless of any issues that they face themselves.
So why did I start blogging? Apart from writing it to let my parents know that I'm still alive, I wanted to share my adventures and happenings to show that you can visit literally anywhere on the planet even if you are a wheelchair (or, in my case, an electric wheelchair) user…it just takes some…uhum…thinking about!!
Enjoy and be sure to get in touch if you have any stories to tell 🙂