We woke up to a beautiful day in comparison to yesterday's rain and it was straight down to the metro to visit, guess what, A TOWER THAT YOU CAN GO UP!!
Whilst we we were travelling on the metro changing lines at interchanges, I was able to get a feel for how accessible it is. One of the lines that is closest to the hotel (line 1) seems to have one of the oldest rolling stock on the network, I put it similar to the old style Paris metro train (not many people will care about this, it's just me being sad!). Naturally there was quite a big gap between the train and the platform edge, however, I have noticed that the driver comes out of the train cab to offer assistance (if only the London Underground did this!!). Anyway for the remainder of our journey, the trains seemed to be that of a modern style and reminded me of the Circle and Hammersmith and City line trains…
When we reached our destination, i.e the tower, it looked majestic against the backdrop of the mountains, it was quite cheap too…there was a reason for this. Although you had a nice view as you went up in the lift as you reached the top it was basically a big podium that you could look out 180 degrees over the city, it still satisfied me anyway…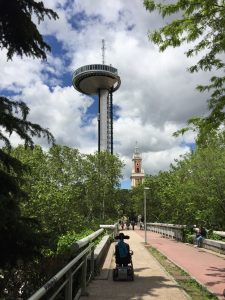 We exited the park that the tower was situated in and began our quest to find somewhere for lunch which took a shorter time than anticipated and it was marvellous food (I can't actually remember the name of it to save my life!). Heading back onto the metro, we travelled to the main station to discover that the elevator was out of service bringing back memories of the London Underground. As a result, we had to get back onto the train and go down to the next accessible station doubling back on ourselves. When I think about accessible metro stations I think of elevators but it seems that the Spanish term it differently as there was no elevator but rather an upward and doward travelator which super bunny loved…
We finally reached the train station only to realise that the Spanish have implemented an airport style security process before you can go on the platform so we went on another little quest to find a spot to watch the trains as they arrived and departed which was entertaining for a while!
Later, we plan to walk down to the Cuatro Torres financial district which basically consists of four very tall towers, in fact some of the tallest in Europe when they are all lit up and looking majestic. Before we head back to the airport tomorrow night we plan to go into the centre on our continuing quest to find a Real Madrid shop.
See you at the airport 😀