Before we delve into todays happenings, there are two nuggets of information that I omitted from the past two posts. Firstly, if you are attempting to navigate the Lisbon Metro, it's useful to know that some drivers like to shut the train doors rather quickly after arriving at the station even when you are between said doors, oh, and the lift doors clearly do not have sensors on as the PAs have quickly discovered! The other nugget being that people in the street are adamant on selling you Marijuana…
Anyway, back to today, sticking to the plan, we headed to Parque das Nações for a gander. The weather today has been a mix of sunshine and heavy downpours thus we worked around said downpours. Although the area has been redeveloped, there is plenty of street art to keep one occupied whilst wandering…
A short walk from the Metro led us to the Estação Oriente train station which is recognised internationally for it's architecture and you know what my love for trains is like!
Whilst wandering around the station, I noted that Portugal adopts the same way of boarding a wheelchair as the majority of its European counterparts (bar the UK) do in the form of a mobile lift which you simply roll onto and then the staff winches you up and positions the lift enabling a smooth transition onto the train…why do Network Rail make it so complicated in the UK???
The next heading was towards the Telecabine Lisbon cable car which runs along the waterfront providing views of the surrounding areas. Upon arrival, it was clear that there would be no way of getting Superbunny on due to the step up thus we suggested to the staff that I would walk on etc. It seemed as if their biggest concern was us leaving an electric wheelchair at the station thus the guy began to Google Superbunnys dimensions shortly followed by a ramp ushering us to board the 'adapted' car (at least said ramp was made properly rather than a wooden plank as in Russia!)…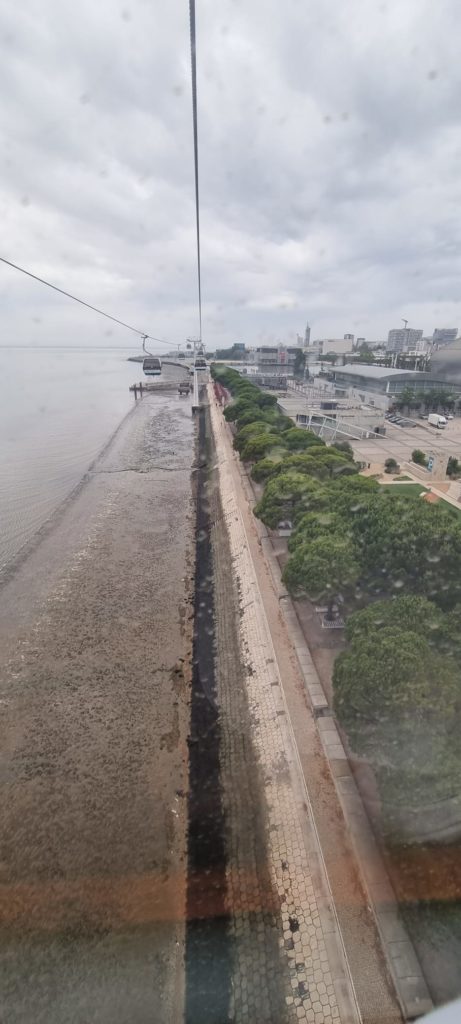 After disembarking (much to the delight of a PA), the downpours began and it was decided that we would have a wander around Lisbon Aquarium which muggins entered for FREE with a PA receiving a 50% discount…it's difficult to spend money even in a country like Portugal! Spectacular views of penguins etc awaited us…
It's a 6am start tomorrow as we head back to the airport for the 10am flight back to old Bristol. Definitely T2 this time meaning that a taxi is preferred otherwise it's an early Metro and Shuttle Bus…The cliffhanger here is if we can source an accessible taxi and how long will Bristol keep said plane waiting?