Before I begin writing about my two day stopover in St Petersburg, Russia, the thought struck me earlier that I forgot to talk about the public transportation accessibility in Tallinn! The city possesses it's own tram and bus network; akin to many European cities i.e. Budapest, the trams are a little hit and miss with only the newer rolling stock having low floor access, however, the majority of buses have this feature.
Anyway, back to yesterday and our first day in St Petersburg. As I mentioned in the previous post, we chose to tour with I Love Travel after reading Cory Lee's experience with the company. A lovely lady met us outside the cruise terminal and whisked us away into the city passing some of it's famous landmarks such as The Winter Palace and The Peter and Paul Fortress…
After stopping off to purchase souvenirs and grabbing a bite to eat (Sushi in Russia – why not!), we headed down to the pier to board the accessible boat for a river tour. Now, when watching the video on Cory's blog, I noted a nice metal ramp being put into place to bridge the gap between the pier and the boat itself strong enough to sustain the weight of an electric wheelchair but for me, a piece of plywood, someone could of broke that with their own weight…wasn't even funny and took a glass of whisky back on the ship to recover from my near drowning experience! The positive side to this, however, is that you do get a whole new perspective of the city from the water…
As I mentioned we had two days in Russia which is the furthest point on the cruise hence today our tour guide took us to visit the Peterhof Palace. Peterhof is located just outside the city and is commonly referred to as the "Russian Versailles" with the inspiration, as implied, taken from the city of Versailles by Peter The Great.
The grounds are mostly accessible albeit a little bumpy and comprises of many fountains (including a 'trick' fountain with the idea being that standing on the wrong stone triggers a fountain of water, however, in reality it's just a guy standing behind a bush pushing a few buttons!).
Peterhof also backs on to the Baltic Sea (or the Gulf of Finland to be exact) hence offers great views, especially towards the Lakhta Centre which is currently under construction but will become the tallest building in Europe…how exciting!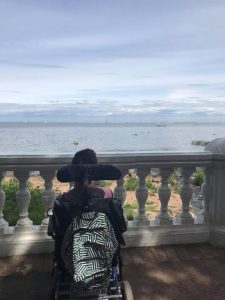 All in all (bar the near drowning experience), I Love Travel is a great company to tour the city with, very knowledgeable and will do their upmost to assist wheelchair users.
Tomorrow, we begin our very slow journey back to the UK stopping off at Helsinki. If we dock at the correct port, we should be in very close proximity to the centre but who knows 🙂